Spruce Meadows Christmas Lights presented by ATCO, Bennett Jones, Scotiabank & WestJet
December 07, 2022


Spruce Meadows Christmas Lights Drive Through

presented by ATCO, Bennett Jones, Scotiabank & WestJet
Spruce Meadows (December 7, 2022) - Spruce Meadows is delighted to announce that again this holiday season the complimentary Christmas Lights Drive Through at Spruce Meadows will be open for all to enjoy.

The Spruce Meadows Christmas Lights Drive Through, brought to you by ATCO, Bennett Jones, Scotiabank and WestJet, features hundreds of thousands of twinkling lights totaling over 50km in length strung up around the grounds. Guests will be able to tune into 87.9 FM to hear holiday music while enjoying the beautiful lights and festive displays. The Drive Through starts at the Spruce Meadows Main Gate (east entrance) off of Spruce Meadows Way.

If you're up for an evening stroll, this year guests will also be able to park in Lot 7 on the west side of the property, and enjoy the winter wonderland on foot through marked paths. A seasonal concession carrying comforting festive fare will also be open in Founders Plaza each evening of the Christmas Lights Drive Through for guests to enjoy.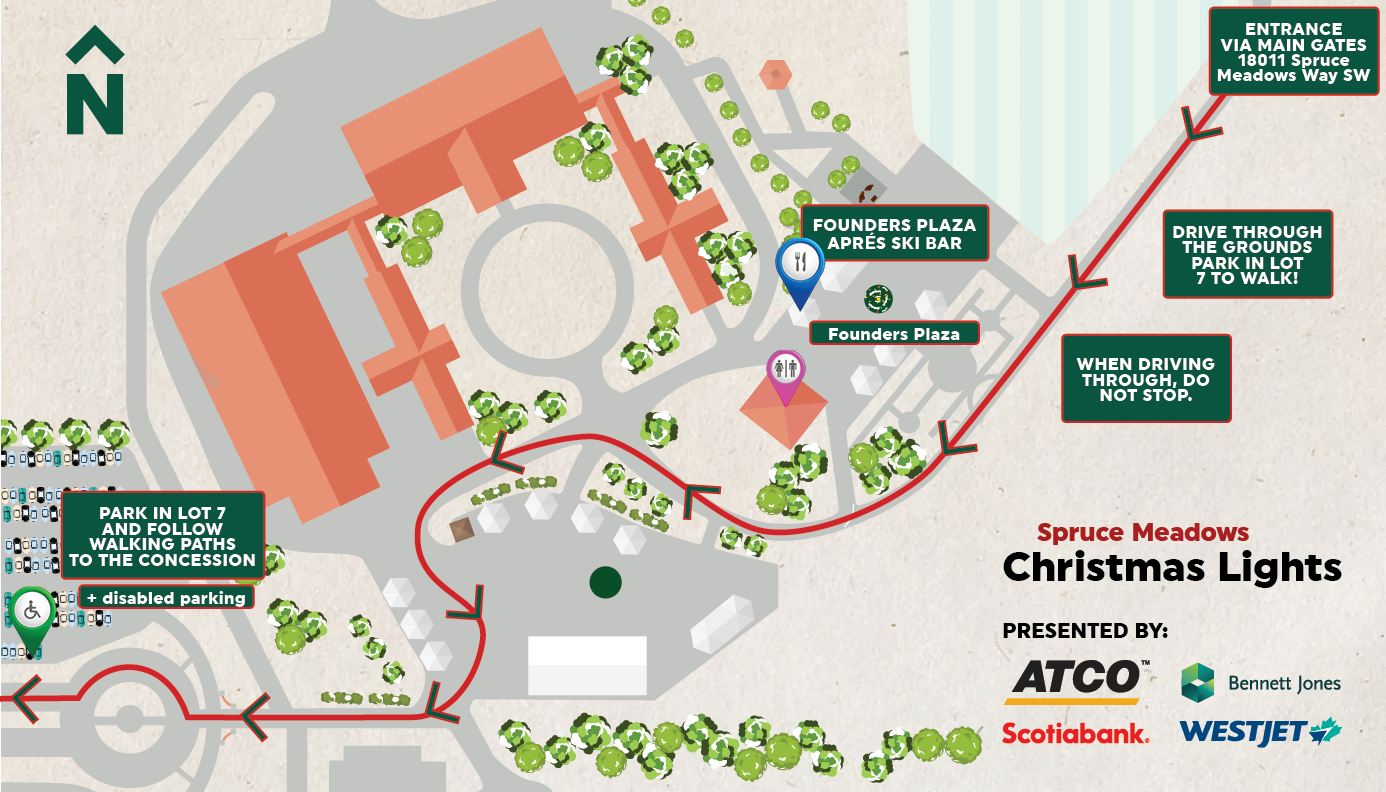 This year, the complementary Spruce Meadows Christmas Lights Drive Through will run from 5 p.m. - 10 p.m. over four weekends:

WEEKEND 1: Friday, December 9 - Sunday, December 11
WEEKEND 2: Friday, December 16 - Sunday, December 18
WEEKEND 3: Thursday, December 22; Friday, December 23; Saturday, December 24
CLOSED Sunday, December 25
WEEKEND 4: Friday, December 30 - Sunday, January 1

For guests unable to make it out, you can view the Christmas Lights Drive Through right from your home HERE. For more information visit sprucemeadows.com.