Canada's Tiffany Foster Takes Two on Day 2 of the 'North American'
July 06, 2023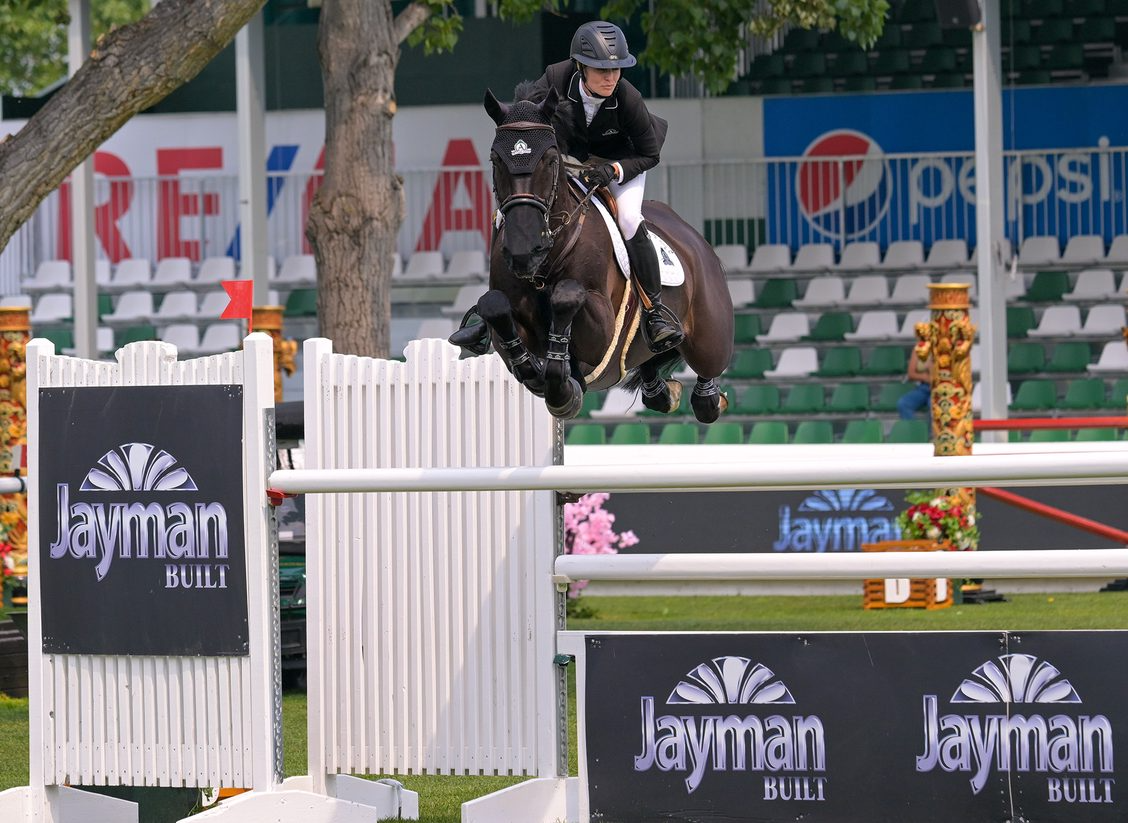 Tiffany Foster (CAN) & Battlecry © Spruce Meadows Media/Mike Sturk
Canada's Tiffany Foster sounds Battlecry to win the Jayman BUILT (1.55m)
July 6, 2023 (Spruce Meadows) - The Jayman BUILT Cup (1.55m) was the final qualifier for Saturday's $1,000,000 ATCO Queen Elizabeth II Cup at the Spruce Meadows 'North American', presented by Rolex. The demanding track designed by FEI Course Designer Santiago Varela (ESP), covered 570m and 13 obstacles (16 jumping efforts) including a triple and double combination.
Eleven athletes passed all the first round tests and qualified for the jump off. Both Daniel Coyle (IRL) and Nayel Nassar (EGY) qualified two mounts, but Nassar elected to only jump off with one.
Tiffany Foster (CAN) & Battlecry © Spruce Meadows Media/Mike Sturk
Coyle was first into the jump off, and aboard his first mount posted a remarkably fast, clear round in a time of 41.23s. Competitors watching the round thought it was unbeatable but Tiffany Foster (CAN) riding the 9-year old Battlecry stuck to the plan and soared over the final fence in the jump off with a time of 40.67s.
"I brought him (Battlecry) here as an eight year old last year, and it was so lovely. In the summer series, we were allowed to get up into this main (International) ring and I could feel that he liked it then. And he just loves this International ring at Spruce Meadows - and it's a good ring to like." - Tiffany Foster (CAN) on her winning horse Battlecry.
---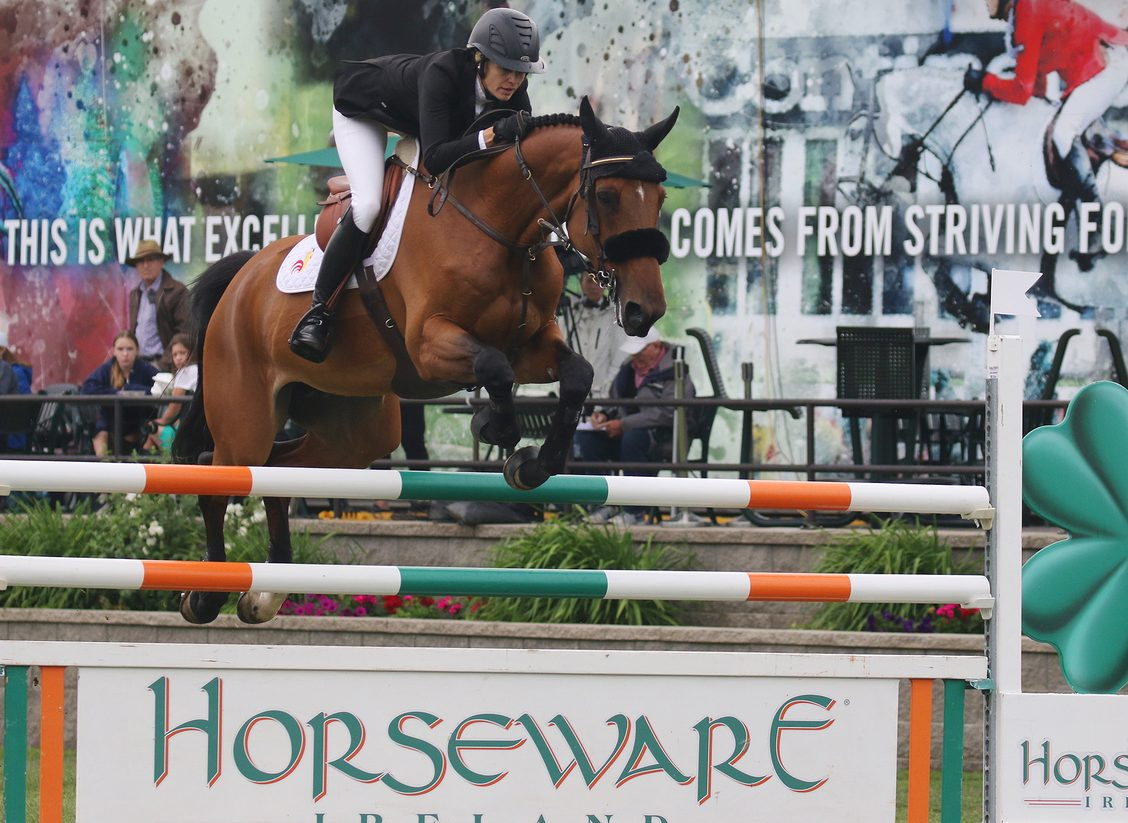 Tiffany Foster (CAN) & Jetouelle-S © Spruce Meadows Media/Dave Chidley
Tiffany Foster (CAN) takes the Horseware Ireland Cup
The Horseware Ireland Cup was the feature competition today on the North American Ring. Over 35 competitions challenged the 450m track designed by FEI Course Designer Joey Rycroft (CAN). Athletes had to clear 11 obstacles (13 jumping efforts) in a time of 72 seconds or less to post a clear round and qualify for the jump off.
Seven of athletes passed all the tests of the first round and advanced to the jump off. Today was a win for the home nation. Tiffany Foster (CAN) aboard Jetouelle-S crossed the finish line of the jump off clear in a time of 34.53s to mark her first win of the day.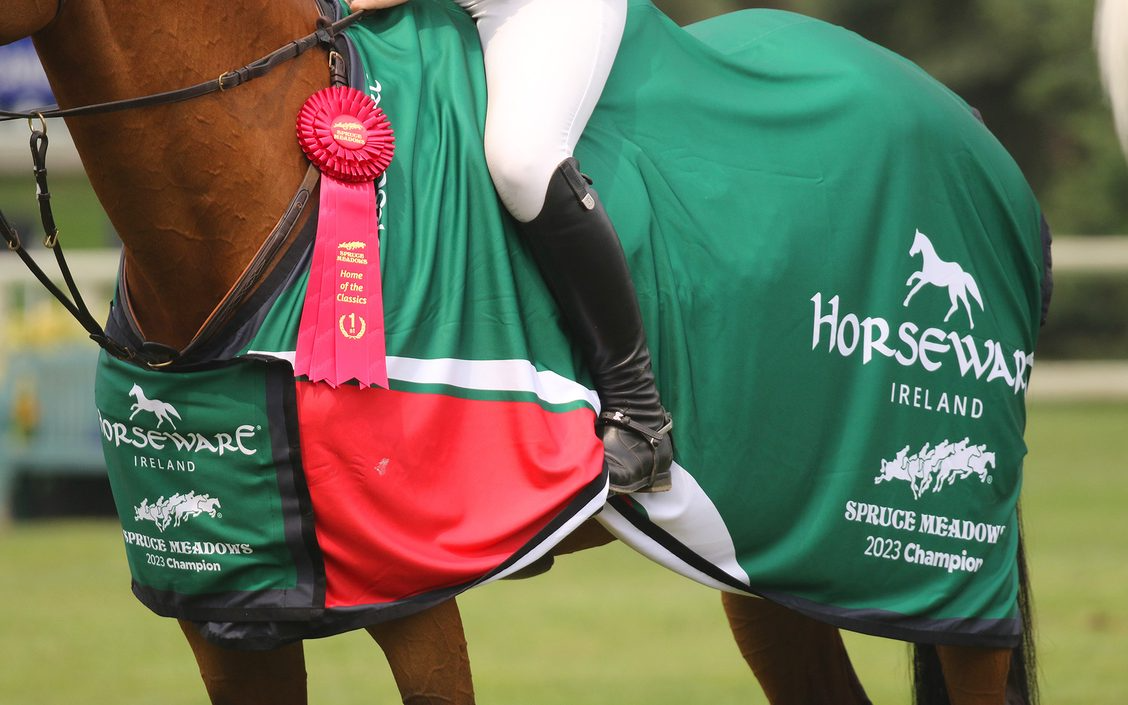 The Champion Blanket © Spruce Meadows Media/Dave Chidley
During the Spruce Meadows summer tournaments, each winning horse is presented with a Horseware Ireland Championship Blanket. This blanket indicates what competition and year the horse won at Spruce Meadows.
---
Best of the Rest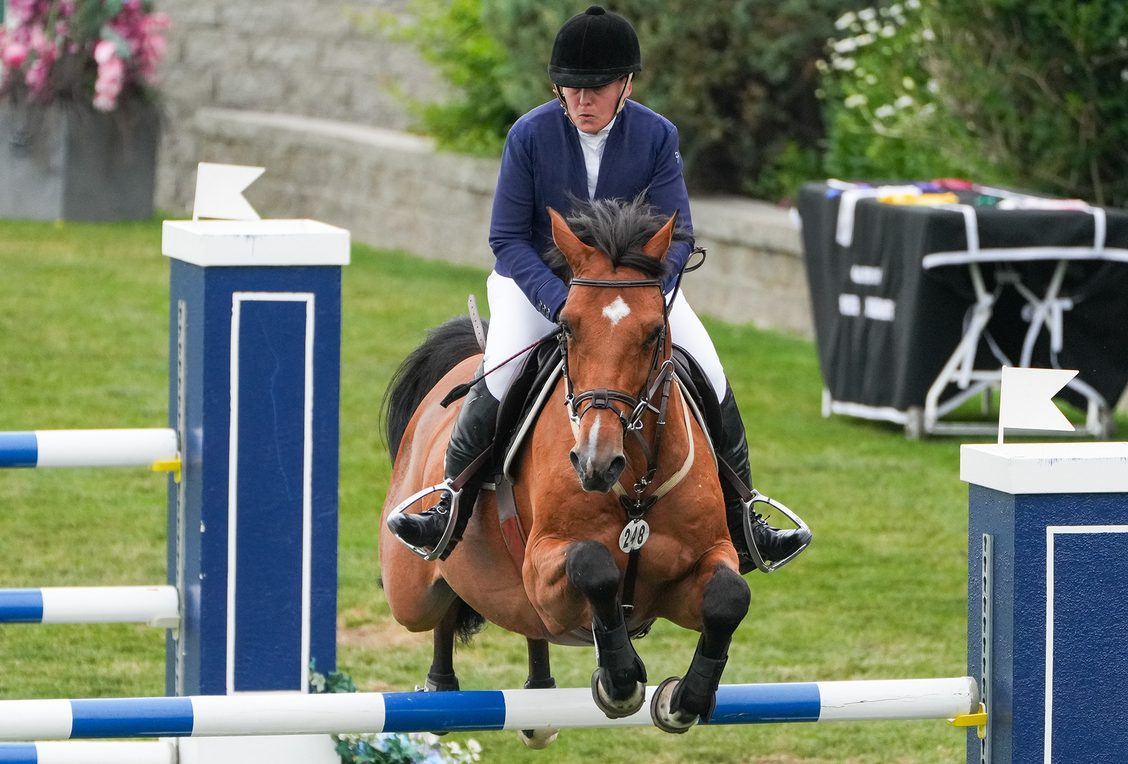 #608 Friends of the Meadows 1.25m
Samia Staehle (USA) & Foxtrot Semilly
© Spruce Meadows Media/Bart Onyszko
#602 Friends of the Meadows 1.10m
Lynne Stephenson (CAN) & WH Coconut
© Spruce Meadows Media/Bart Onyszko
---
More Photos from Today
Check out Time Faults Pub outside our Main Sand Ring. Riders are out exercising horses throughout the day © Spruce Meadows Media/Dave Chidley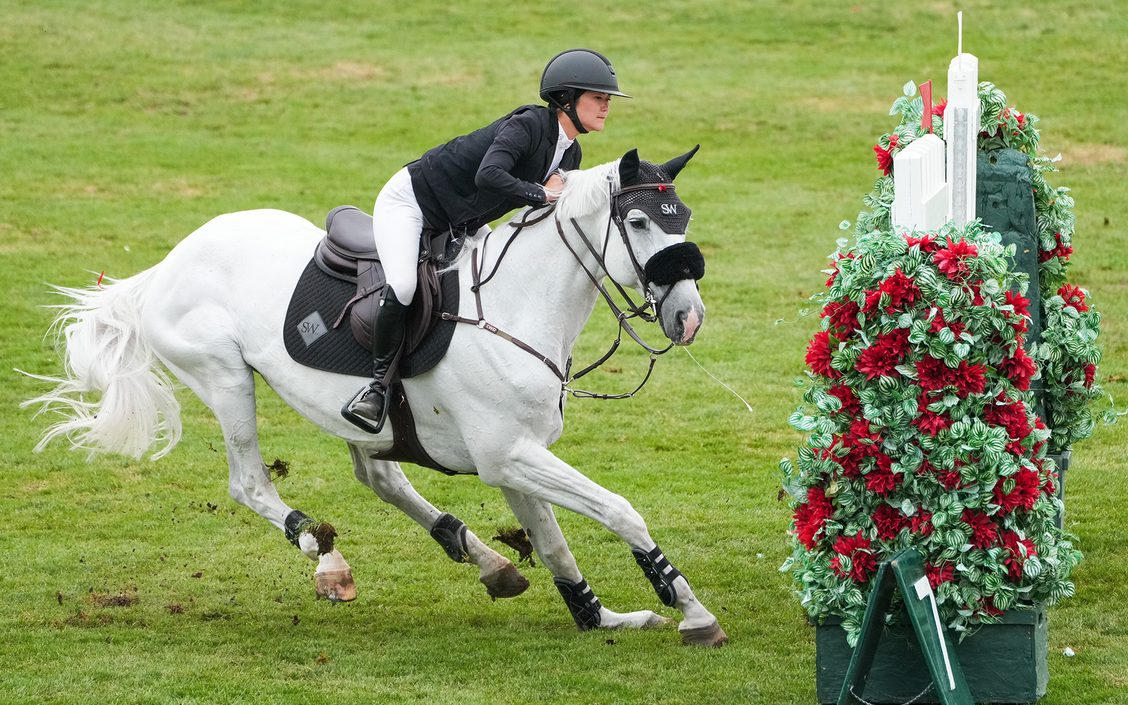 One says "go", the other "whoa" © Spruce Meadows Media/Bart Onyszko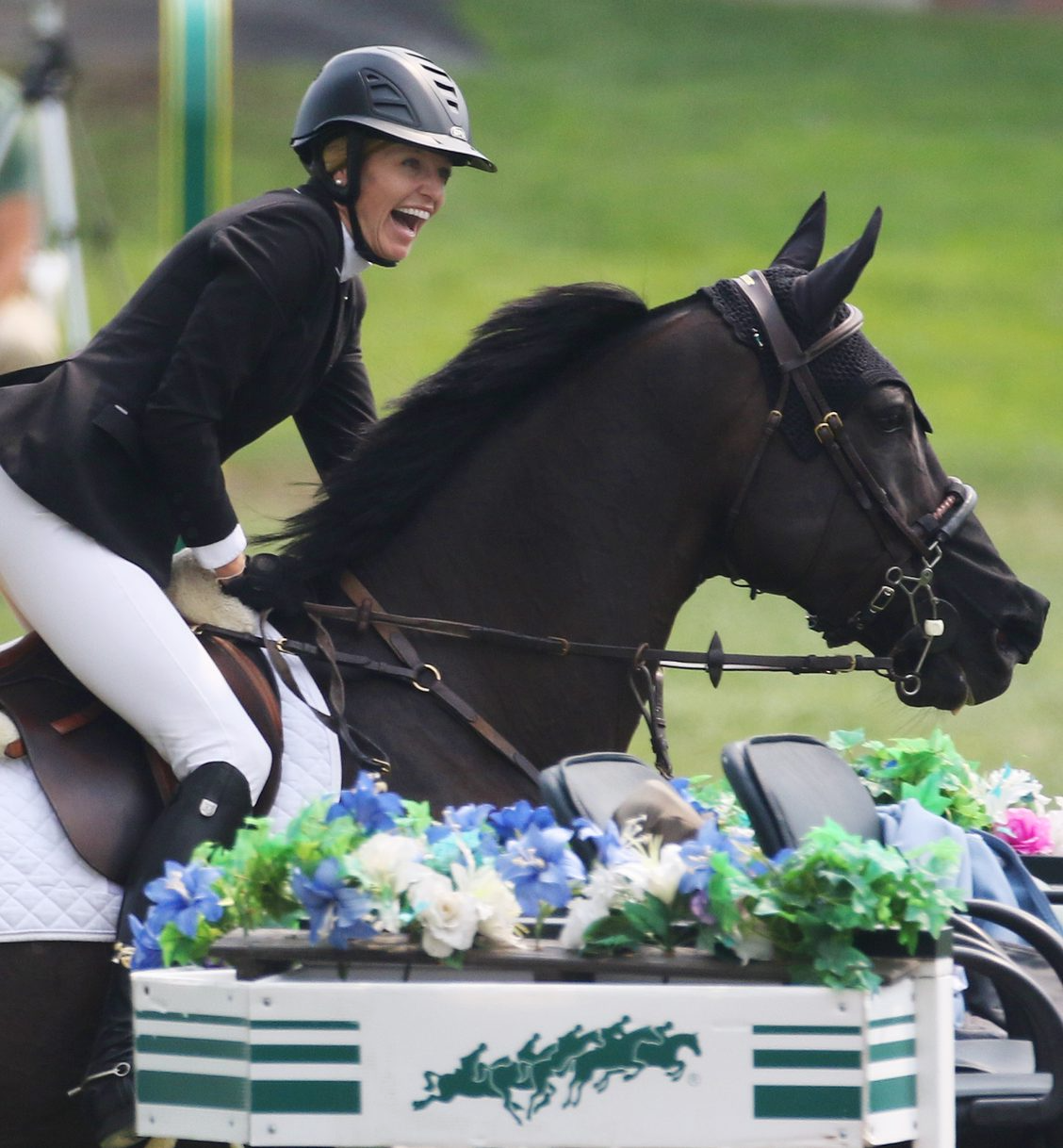 An excited Tiffany Foster (CAN) rides past the Playpen knowing she's victorious © Spruce Meadows Media/Dave Chidley
Horse and rider parted ways at the jump (both okay) © Spruce Meadows Media/Dave Chidley
Celebrating Day 2 of the 'North American' with two wins © Spruce Meadows Media/Mike Sturk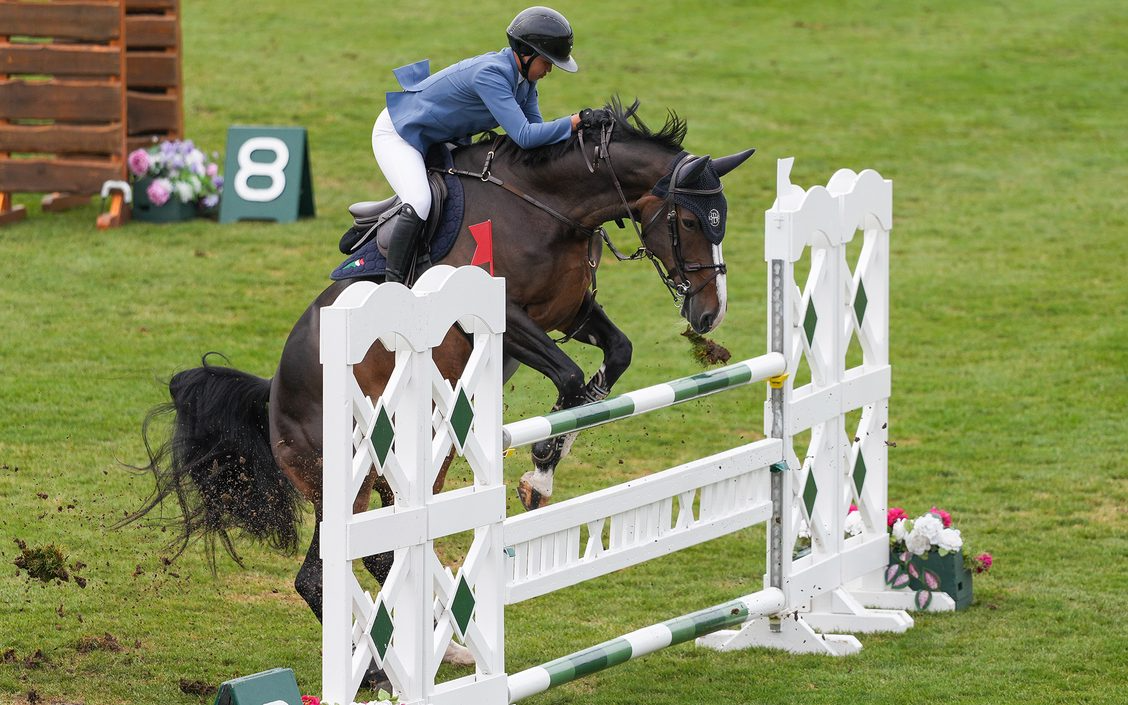 A little snug to the base of the jump © Spruce Meadows Media/Bart Onyszko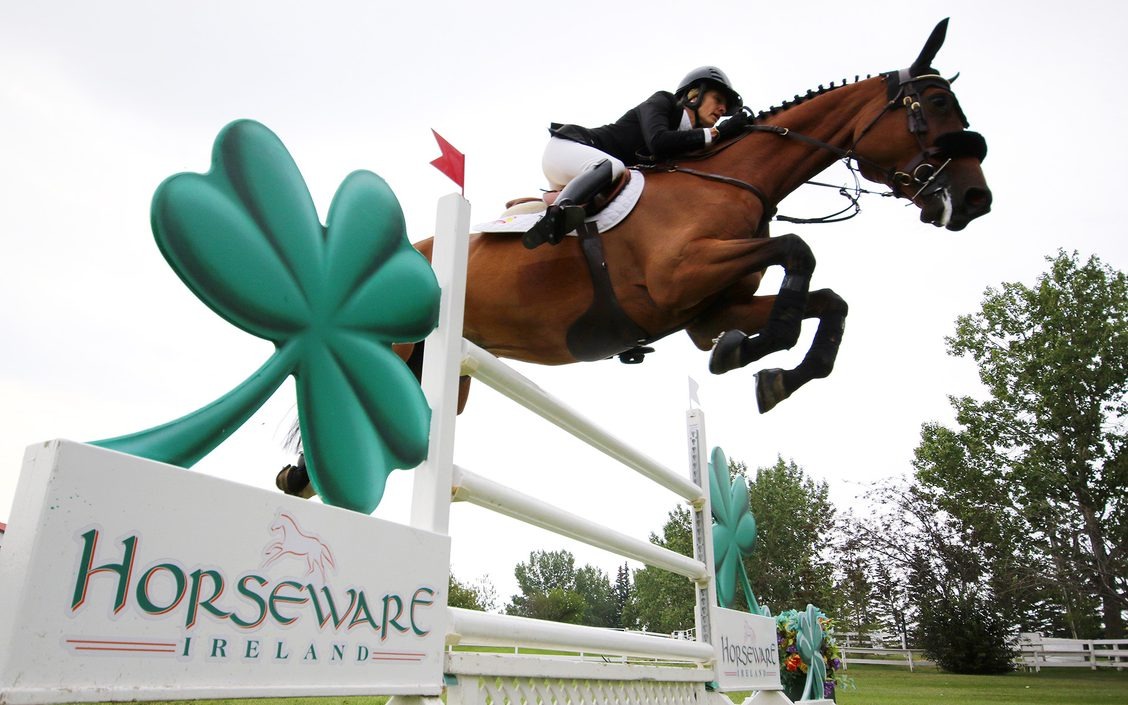 All the championship blankets at Spruce Meadows are Horseware Ireland © Spruce Meadows Media/Dave Chidley