Final day of the 2023 'National', presented by Rolex
June 18, 2023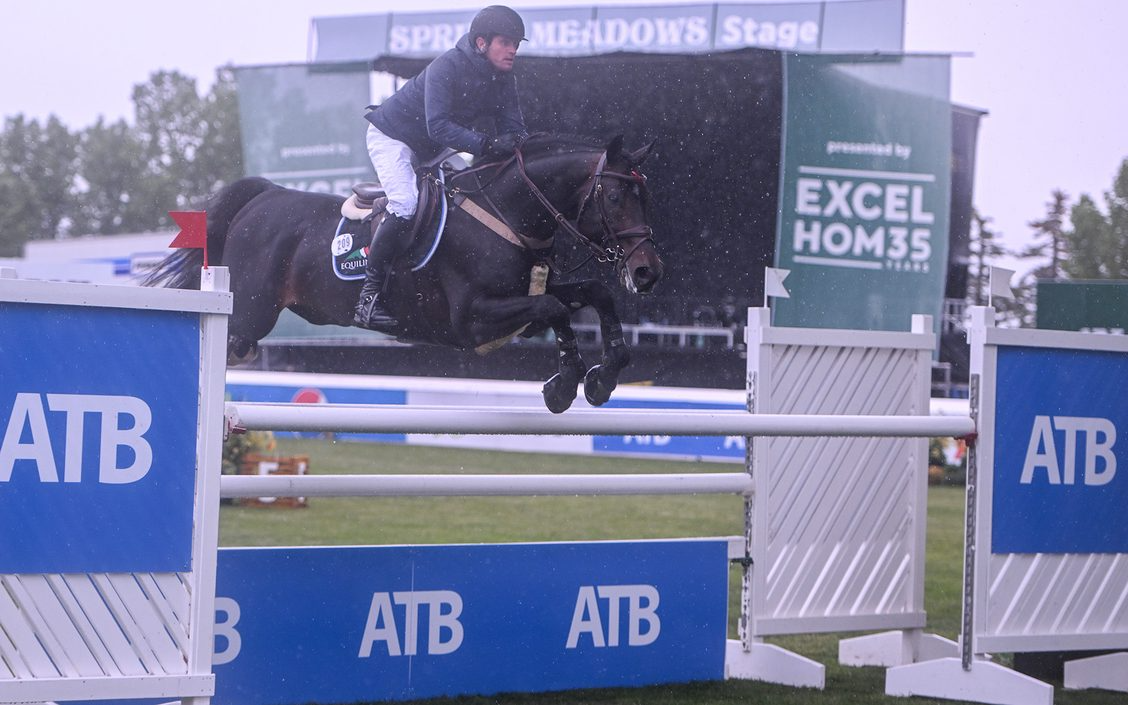 Darrah Kenny (IRL) & Chic Chic © Spruce Meadows Media/Mike Sturk
Two for Two for Ireland's Darragh Kenny Sunday of the 'National', presented by Rolex
June 18, 2023 (Spruce Meadows) - Mother Nature decided to add a little moisture into the mix for the final afternoon of the Spruce Meadows 'National' Tournament and the ATB Cup 1.50m. With the rain not letting up, the FEI Ground Jury (officials) met and opted to change the type of competition from a Table A Jump Off to a Table A Speed. The fastest round with the least amount of faults would be placed at the top of the leaderboard.
Darragh Kenny (IRL) was unfazed by the change in conditions on the International Ring this afternoon. Like a true Irishman, he braved the weather aboard Chic Chic and performed brilliantly. Kenny was able to open the stallion's stride up and sail through the finish line, clear, in a time of 66.55 seconds.
"It was a great day, I haven't been to Spruce (Meadows) in probably four or five years and it's a fantastic facility. It (the rainy weather) didn't really bother me. He's (Chic Chic) very brave so I just went as fast as I could" - Darragh Kenny (IRL) on being back at Spruce Meadows and competing in the heavy rain.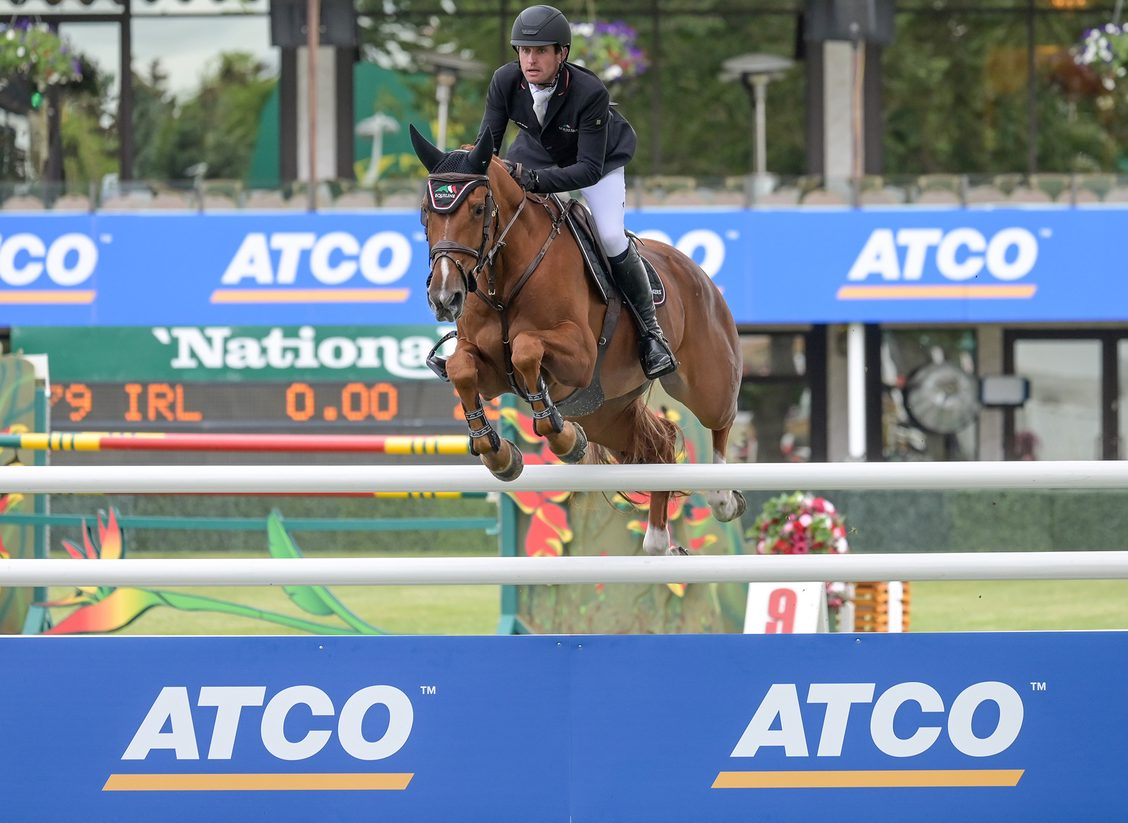 Darragh Kenny (IRL) & Vancouver Dreams © Spruce Meadows Media/Mike Sturk
The ATCO CSI2* Grand Prix was the first competition on final day of the Spruce Meadows 'National', presented by Rolex. Only the top thirty-five horse/rider combinations from qualifiers earlier in the week were able to step through the iconic clock tower in hopes of making it to the winner's circle.
Thirteen riders representing seven nations, passed all the first round's tests set out by FEI Course Designer Olaf Petersen Jr. (GER) and advanced to the jump off. It was a slightly cooler temperatures in the Alberta Foothills this morning, but it seemed to suite Ireland's Darragh Kenny just fine.
Aboard Vancouver Dreams, Kenny galloped through the finish line, clear, with the fastest time of 39.50s.
---
Best of the Rest - Today's Winners
Friends of the Meadows 1.10m - Rocky Mountain Ring
Morgan Primrose (CAN) riding Peninsula Vertigo
© Spruce Meadows Media/Bart Onyszko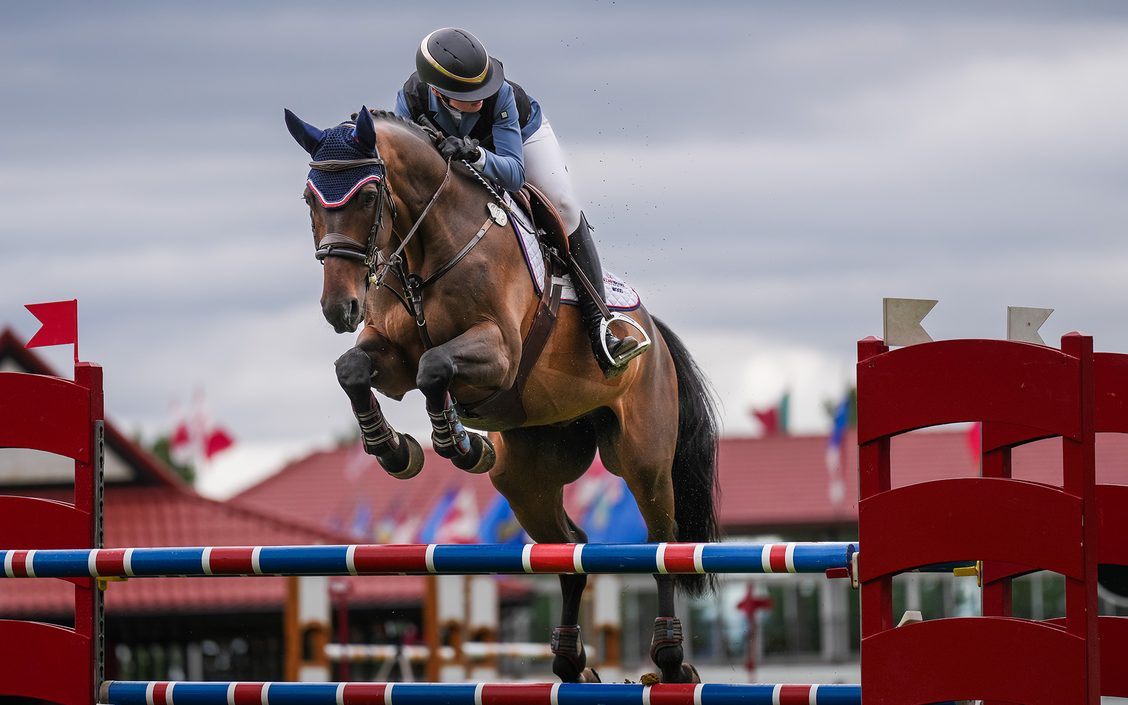 Friends of the Meadows 1.20m - Rocky Mountain Ring
Taylor Wood (CAN) & Joyride
© Spruce Meadows Media/Bart Onyszko
Moore Equine Cup 1.30m - Rocky Mountain Ring
Taylor Wood (CAN) & New York's Joy
© Spruce Meadows Media/Tony Lewis
---
More Photos from Today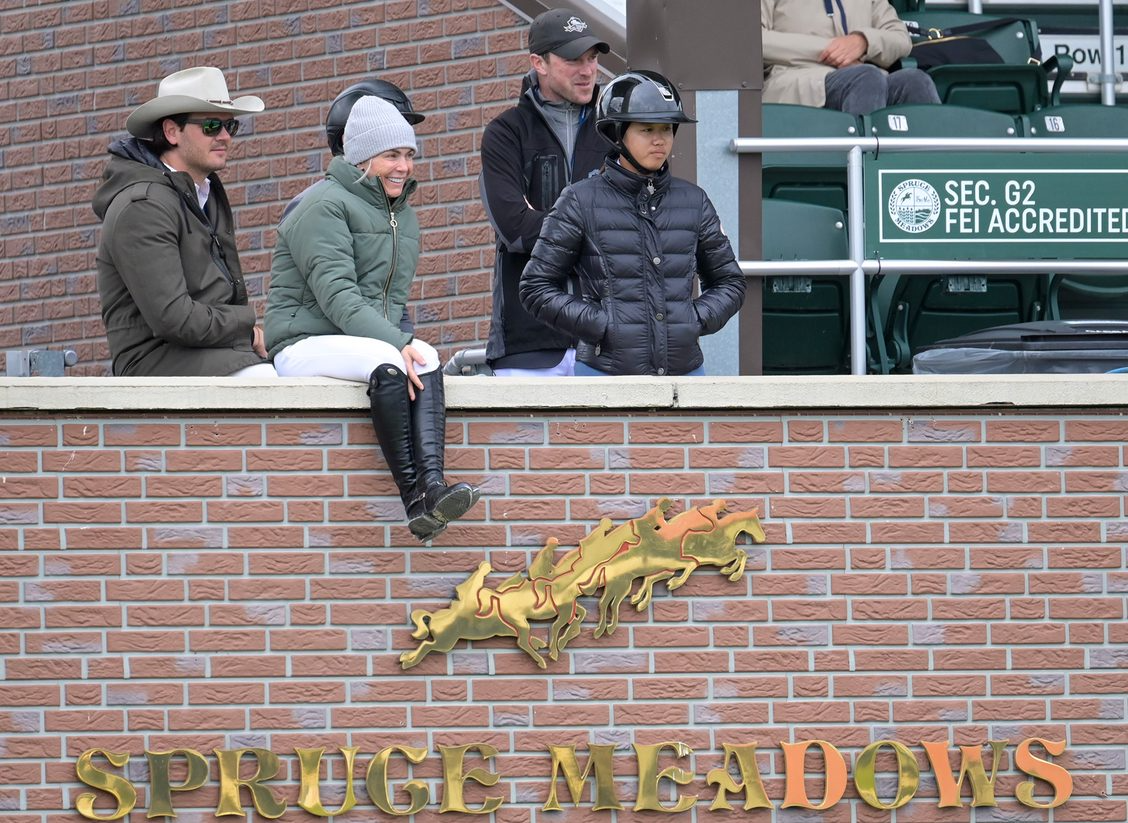 Athletes watch from the Southwest Grandstand © Spruce Meadows Media/Mike Sturk
The rain didn't phase Conor Swail who finished second in the ATB Cup 1.50m © Spruce Meadows Media/Mike Sturk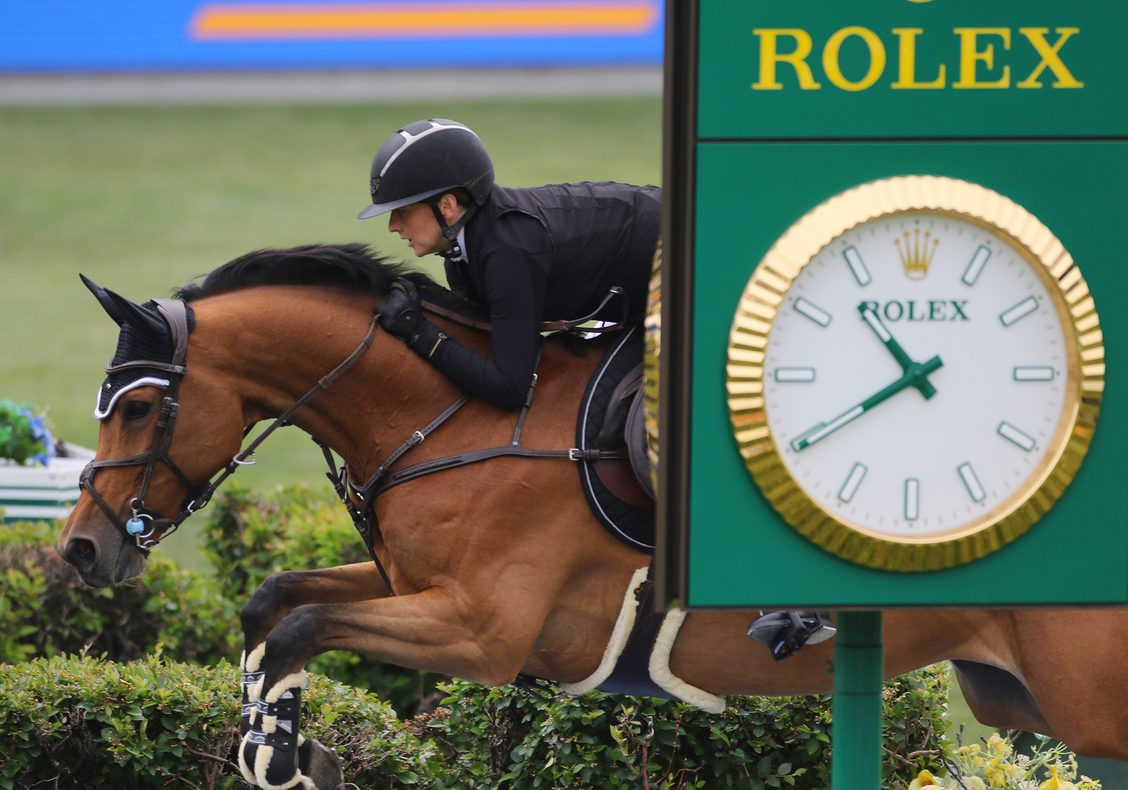 What time is it? © Spruce Meadows Media/Dave Chidley
Belly run on the rail © Spruce Meadows Media/Dave Chidley
Miscommunication at fence #2 © Spruce Meadows Media/Bart Onyszko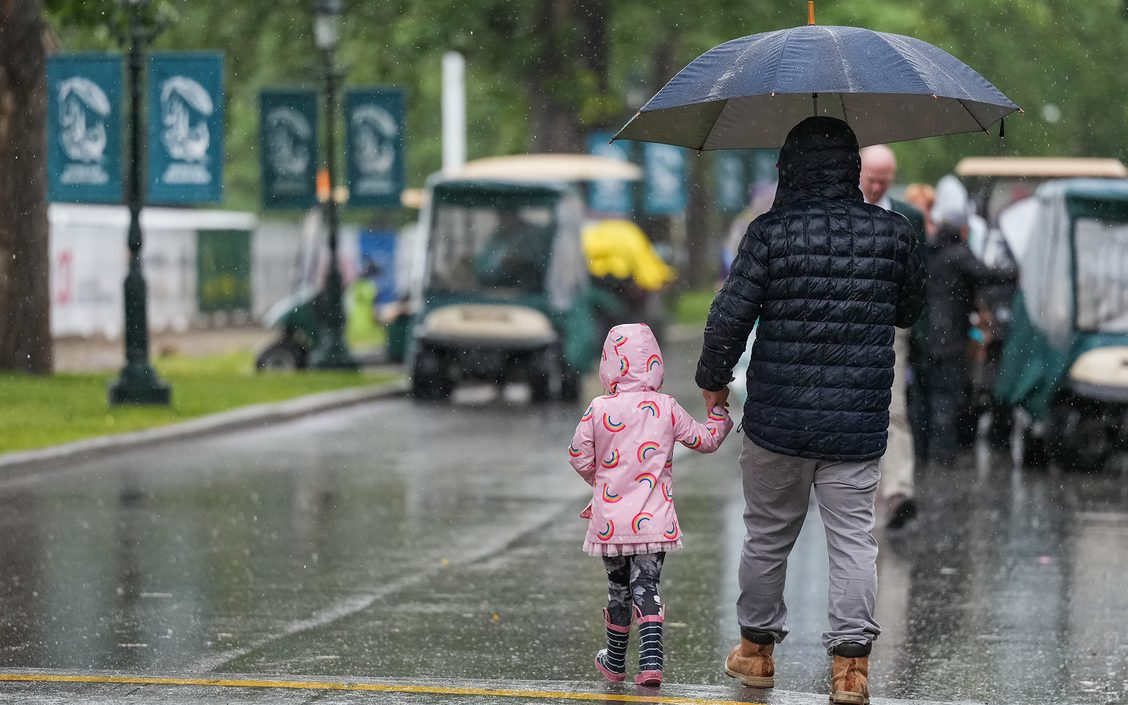 Despite the rain, fans came to enjoy the grounds and great show jumping © Spruce Meadows Media/Bart Onyskzo
Aaron Pritchett was one of three great country artists to play the stage on the International Ring this afternoon © Spruce Meadows Media/Dave Chidley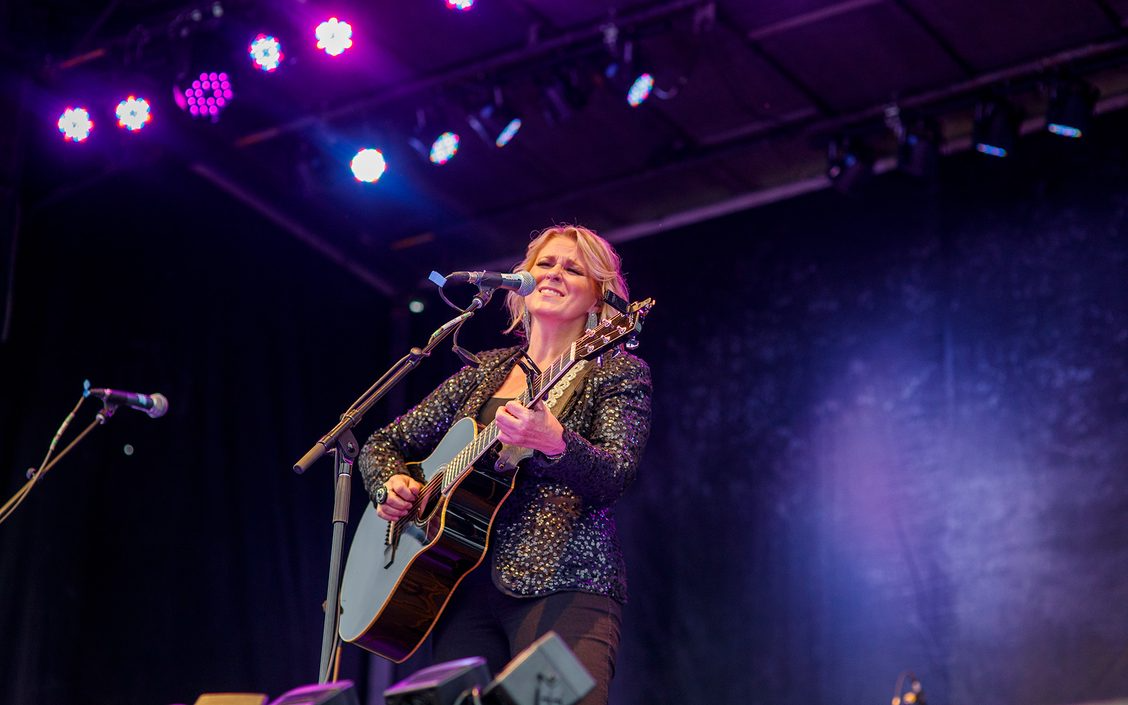 Carolyn Dawn Johnson sings Saturday and Sunday at the 'National' © Spruce Meadows Media/Tony Lewis
Bump © Spruce Meadows Media/Dave Chidley
Smiles even in the rain © Spruce Meadows Media/Tony Lewis